>>>>> WORK IN PROGRESS <<<<<
Part Six
April 2011 - Elsinore Mk5 - some details below are obsolete.
Construction Photos
Please see Diffraction Wedge photos below. These were made from 2mm thick heavy duty vinyl tile. The type used was designed for floors such as factories or commercial kitchens. Cut with a straight edge knife (I used a guillotine), edges filed at appropriate angles for a snug fit, superglued together, then covered with a thin black felt to cover. Make sure that the centre square hole, that the felt overlaps the inside edges by 2-3mm, so that the holes looks slightly smaller after the felt has been glued on. Use craft glue from the same craft shop that also sells the felt. The felt comes in many colours, so if you want something more garish looking? Up to you.
Later, will post actual dimensions of cut vinyl here, to assist making your own.
It may be a good idea to use some Blue Tack to hold the wedge in
The Photos below relate to older Mark 1 and Mark 2 versions:
(Mark 3 Boxes have less cavity recess and flush mount Tweeter)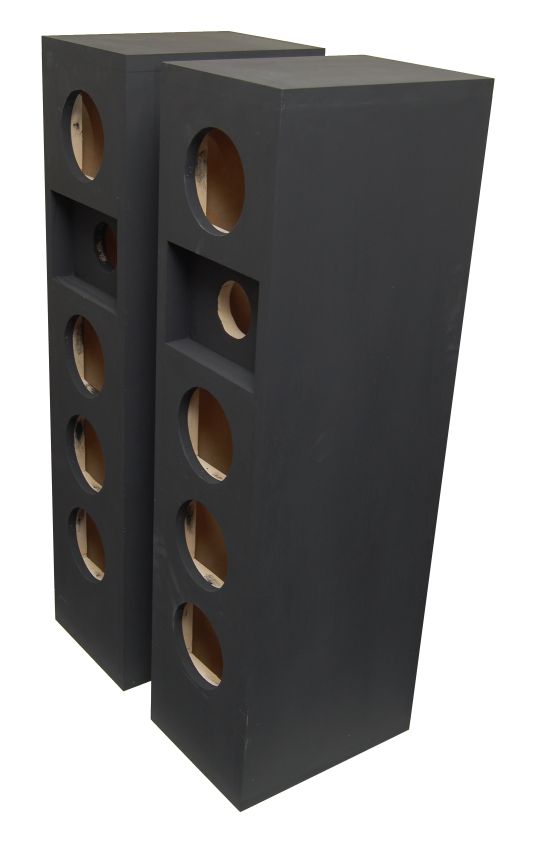 Finished Boxes
Plain mat Black Acrylic paint - spend your money and you could get them done by a pro.
---